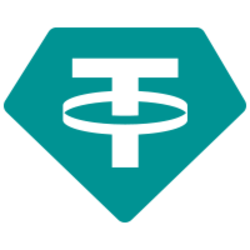 Cur - Max Supply
79.52B - 79.52B
Statistics
CATEGORY

categories

Tether Price

$1

All-time high

$1.32

Days since ATH

1710

Price change

$0.001238

(0.1237%)

Date of ATH

Jul 24, 2018

% of ATH

75.60%
Tether Review
Table of contents
Tether(usdt) ATH - All Time High Price
| | |
| --- | --- |
| Tether ATH Price | $1.32 |
| Days Since ATH | 1710 |
| ATH Date | Jul 24, 2018 |
| All Time High % | 75.60% |
Tether(usdt) - Coin Trading Data
| | |
| --- | --- |
| Tether Price | $1 |
| Ticker | usdt |
| Market Capitalization | $79.51B |
| Value 24h low | $0.997 |
| Value 24h high | $1.01 |
| Trade Volume for 24h | $33.2B |
| Current Circulating Supply | 79.52B |
| Maximum Supply | 79.52B |
| Algorithm | |
| ICO Price and ICO ROI | — |
| Price Change 24h % | 0.1237% |
| usdt quote | $1 |
Q&A For Tether Cryptocurrency
How much is a one Tether worth now?
1 Tether worth $1 now.
What is the price of usdt?
The price of usdt is $1.
What is the Tether max supply?
The max supply of Tether is 79.52B.
What is the Tether stock symbol or ticker?
The stock symbol or ticker of Tether is usdt.
How many usdt coins are there in circulation?
There are 79.52B coins in circulation of usdt.
What is the exchange rate of Tether(usdt)?
The exchange rate of Tether is $1.
Tether Exchange Rates on Trading Markets
| # | | Exchange | Pair | Price | 24h volume | Volume % | Updated |
| --- | --- | --- | --- | --- | --- | --- | --- |
| 1 | | CoinDCX | BTC/USDT | $28,621.44 | $2.88B | 6.15% | 18 minutes ago |
| 2 | | Binance | BTC/USDT | $28,638.16 | $2.87B | 6.13% | 4 minutes ago |
| 3 | | CoinDCX | ETH/USDT | $1,796.23 | $1.1B | 2.35% | 6 minutes ago |
| 4 | | Binance | ETH/USDT | $1,795.91 | $1.1B | 2.35% | 13 minutes ago |
| 5 | | MEXC Global | BTC/USDT | $28,614.83 | $876.37M | 1.87% | 10 minutes ago |
| 6 | | Binance | XRP/USDT | $0.5374 | $746.13M | 1.59% | 14 minutes ago |
| 7 | | CoinDCX | XRP/USDT | $0.5377 | $746.1M | 1.59% | 6 minutes ago |
| 8 | | Nami.Exchange | BTC/USDT | $28,604.14 | $742.58M | 1.59% | 10 minutes ago |
| 9 | | CoinTR Pro | BTC/USDT | $28,595.09 | $723.95M | 1.55% | 8 minutes ago |
| 10 | | Bitforex | BTC/USDT | $28,630.52 | $688.29M | 1.47% | 3 minutes ago |
| 11 | | Bitforex | ETH/USDT | $1,794.31 | $510.85M | 1.09% | 8 minutes ago |
| 12 | | OKX | BTC/USDT | $28,607.88 | $479.6M | 1.03% | 7 minutes ago |
| 13 | | FTX TR | USDT/USD | $1.85 | $464.14M | 0.99% | 4 months ago |
| 14 | | Bitrue | BTC/USDT | $28,608.22 | $450.69M | 0.96% | 7 minutes ago |
| 15 | | Binance | ARB/USDT | $1.34 | $428.4M | 0.92% | 12 minutes ago |