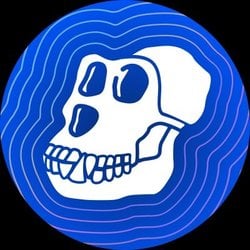 Cur - Max Supply
368.59M - 1B
Statistics
CATEGORY

categories

ApeCoin Price

$3.91

All-time high

$26.7

Days since ATH

333

Price change

-$0.229

(-5.5508%)

Date of ATH

Apr 28, 2022

% of ATH

14.61%
ApeCoin Review
Founded Date: March 17, 2022
Founders: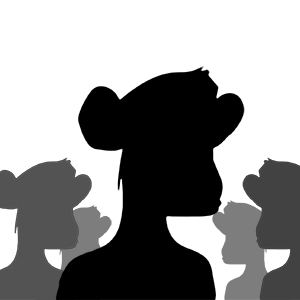 ApeCoin(APE) - Coin Trading Data
| | |
| --- | --- |
| ApeCoin Price | $3.91 |
| Ticker | ape |
| Market Capitalization | $1.44B |
| Value 24h low | $3.84 |
| Value 24h high | $4.14 |
| Trade Volume for 24h | $131.52M |
| Current Circulating Supply | 368.59M |
| Maximum Supply | 1B |
| Algorithm | |
| ICO Price and ICO ROI | — |
| Price Change 24h % | -5.5508% |
| ape quote | $3.91 |
ApeCoin(APE) ATH - All Time High Price
| | |
| --- | --- |
| ApeCoin ATH Price | $26.7 |
| Days Since ATH | 333 |
| ATH Date | Apr 28, 2022 |
| All Time High % | 14.61% |
Table of contents
ApeCoin Profile
ApeCoin (APE) is an Ethereum-based token with a connection to Bored Ape Yacht Club NFT. Bored Ape Yacht Club NFT is one of the most successful NFT projects at the moment. It is a unique NFT collection which has a market capitalization exceeding $3.7 billion, consisting of more than 10,000 digital images of monkeys and is probably the most popular representation of the NFT trend.
Bottom price for the Bored Ape is about $260,000, which makes it the most expensive collection of the NFT. The collection's highest-priced token, Bored Ape #232, was sold for $2.85 million.
Due to the fact that images of bored monkeys were bought by such celebrities as Eminem, Paris Hilton, Justin Bieber, Snoop Dogg and Mark Cuban, this NFT-collection has attracted a lot of social attention and caused a huge buzz.
The ApeCoin meta universe project not only includes the BAYC NFT-collection, but also the MAYC mutant monkey yacht club. It also includes the BAKS dog club and the virtual world Otherside, which has 200,000 plots of land.
ApeCoin
ApeCoin is an APE ecosystem management token that allows token holders to participate in the ApeCoin DAO and supplies its members with a shared and open currency that can be used without centralized intermediaries. 62% of all ApeCoin has been allocated to the Ecosystem Fund, which will support community initiatives that ApeCoin DAO members vote for.
The total number of ApeCoin, according to the developers, is one billion coins. There are no opportunities to mine APEs, so the stated number is permanently fixed in terms of growth. Also, there is no possibility to burn "extra" coins, so the reduction of the number of tokens is also unavailable.
APECOIN ALLOCATION
62.00% Ecosystem Fund
16.00% Yuga Labs + Charity
14.00% Launch Contributors
8.00% Bayc Founders
The token can be used to make payments and transactions. Moreover, since it is a management token, its holders will have a voting right and will be able to propose innovations, which are called AIP (suggestions for improvement of APEs).
Such suggestions can address branding decisions, ecosystem placement, information, re-presentation, and other things. In this way, APE token holders are full members of the APE DAO community and have the same voting rights as other members of this community.
Part of the funds are blocked immediately with the possibility of unblocking within four years, based on a set schedule. The distribution takes place between the four groups.
In addition, ApeCoin allows third-party developers to participate in the APE ecosystem: a developer can use the token in their games and other projects to reward users.
APE DAO
ApeCoin DAO guarantee decentralized project management. Every APE token holder can participate in the voting. One ApeCoin is equivalent to one vote. ApeCoin DAO members can make decisions about allocations to the ecosystem fund, governance rules, new project support, and much more. All procedures and choices are fully shared with the community.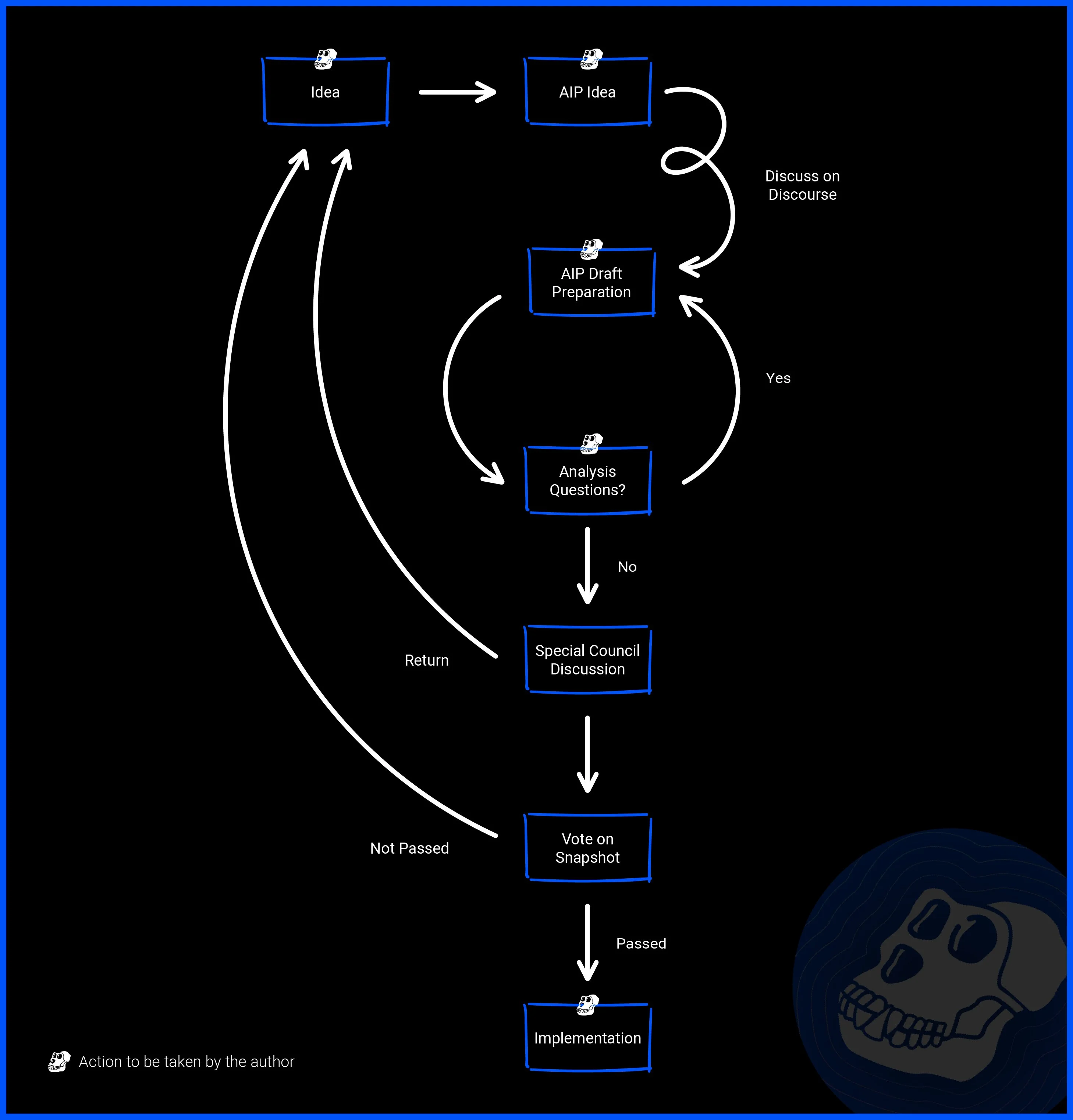 One of the controls of the ApeCoin DAO is the required moderation of each and every proposal of Ape improvement. As part of this strategy, the community keeps the DAO recommendations available to all users. Only after the AIP gets a majority of votes will it be put to use.
Ape Foundation
The Ape Foundation is responsible for executing decisions made by DAO members through voting. APE Foundation is the base layer that manages the activities of the ApeCoin DAO. It helps increase the decentralization of the company in the long-term.

The Foundation's main functions are to control DAO decisions, manage accounting, handle projects, provide day-to-day administration and perform a number of other important functional tasks so that intended projects can be completed.
ApeCoin Success
The main reason for ApeCoin's success is certainly its connection with Yuga Labs. This is the company that created such elite NFT collections as Bored Ape Yacht Club and Mutant Ape Yacht Club. It is Yuga Labs that is behind the creation of the DAO, although they are now trying to distance themselves from the initiative to comply with some SEC regulatory requirements.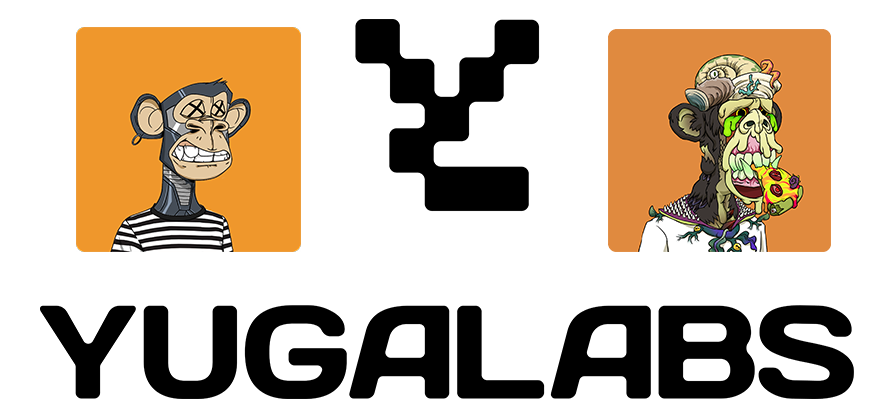 But this is just an illusion, because Yuga Labs has already given DAO the official branding of the BAYC project and has directed a significant part of its own income from NFTs to the development of the community.
In addition, the success of ApeCoin was also influenced by the fact that in March Yuga Labs bought the copyrights to the NFT brands CryptoPunks and Meebits from Larva Labs. The terms of the deal were not disclosed, the press release said only that Yuga Labs now owns 423 CryptoPunks and 1,711 Meebits.
Investment Risks in APE
If you are not a NFT enthusiast and you do not believe in the growth of this market, believing the current situation to be a short-term hype that will end in a collapse, then buying APE is not a good idea. And that's not the only reason that makes APE a risky investment.
I. High volatility. The short history of APE shows very high volatility, for two reasons: the strong influence of marketing and the small number of tokens on the market.
II. The concentration of APE in the hands of specific users. A few people have bought a significant portion of APE tokens circulating in the markets, which creates the conditions for rate manipulation.
III. Lack of guarantees. Neither ApeCoin DAO, Ape Foundation, nor Yuga Labs have any legal or regulatory obligations to disclose material information about their activities to the public, or any financial obligations to APE investors.
IV. Regulatory risks. ApeCoin's proposal is doubtful from a legal standpoint, as the legal status of NFT is currently barely defined in any way.
Staking ApeCoin
On December 6, 2022, Horizen Labs announced the release of staking at apestake.io. Users can add both ApeCoin and non-exchangeable tokens (NFTs) from the BAYC, MAYC and BARC collections to the pools.
According to Nansen, about 4.28 million APEs worth $16 million are currently blocked in the contract.
APEs can be staked in a number of ways. The easiest is with a cryptocurrency wallet: this option requires no NFT ownership and allows you to stake even a single token. The total reward for this pool amounts as much as $30 million APE.
Overall
In the long term, a prediction on ApeCoin is a bet on Yuga Labs and the NFT market as a whole. If you believe that NFT is not just another financial bubble, but rather a long-lasting trend and an important milestone in the development of blockchain technology and the digital economy, then purchasing APE cryptocurrency would be a great investment for you.
Q&A For ApeCoin Cryptocurrency
How much is a one ApeCoin worth now?
1 ApeCoin worth $3.91 now.
What is the price of ape?
The price of ape is $3.91.
What is the ApeCoin max supply?
The max supply of ApeCoin is 1B.
What is the ApeCoin stock symbol or ticker?
The stock symbol or ticker of ApeCoin is ape.
How many ape coins are there in circulation?
There are 368.59M coins in circulation of ape.
What is the exchange rate of ApeCoin(ape)?
The exchange rate of ApeCoin is $3.91.
What was ApeCoin's trading volume in 24 hours?
ApeCoin's 24-hour trading volume is $131.52M.
What was the highest price paid for ApeCoin?
ApeCoin reached a record high of $26.7 on Apr 28, 2022
ApeCoin Exchange Rates on Trading Markets