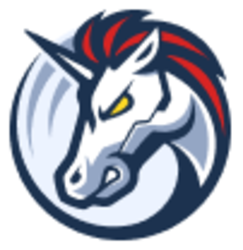 Cur - Max Supply
1.03B - 1.5B
Statistics
1inch Price

$0.2602

All-time high

$8.65

Days since ATH

697

Price change

-$0.001

(-0.6828%)

Date of ATH

Oct 27, 2021

% of ATH

3.01%
1inch Review
1inch (code: 1INCH)
Founded Date: Jul 9, 2020
Founders: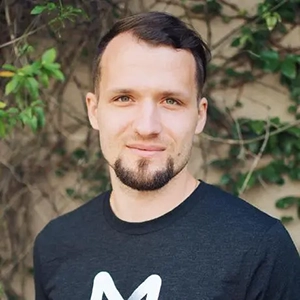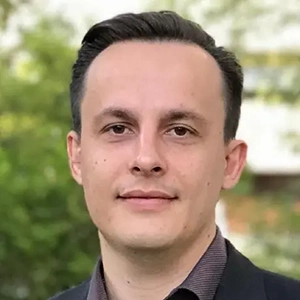 1inch(1INCH) - Coin Trading Data
| | |
| --- | --- |
| 1inch Price | $0.2602 |
| Ticker | 1INCH |
| Market Capitalization | $269.4M |
| Value 24h low | $0.2579 |
| Value 24h high | $0.2635 |
| Trade Volume for 24h | $10.24M |
| Current Circulating Supply | 1.03B |
| Maximum Supply | 1.5B |
| Algorithm | |
| ICO Price and ICO ROI | AirDrop |
| Price Change 24h % | -0.6828% |
| 1INCH quote | $0.2602 |
1inch(1INCH) ATH - All Time High Price
| | |
| --- | --- |
| 1inch ATH Price | $8.65 |
| Days Since ATH | 697 |
| ATH Date | Oct 27, 2021 |
| All Time High % | 3.01% |
1inch Profile
1inch Exchanche is a decentralized exchange (DEX) aggregator that unites several DEXs into one platform to allow its users an opportunity to find the most efficient exchange routes on all platforms.
Exchanging cryptocurrencies is a demanding process that requires studying and comparing rates on various cryptocurrency exchanges. If you choose a sub-optimal rate, you will make a loss. 1inch aggregator helps you to solve this problem, as it uses powerful algorithms to find all exchangers with the most effective rates.
Aggregator solves one of the key problems of DEX which is lack of liquidity. The fact that liquidity is dispersed over a large number of decentralized exchanges, so that each individual site has an extreme lack of it, resulting in difficult operation and significant price volatility. The aggregator 1inch and similar aggregators eliminate this problem.
How 1inch offers the best rates?
History of 1inch
In 2019, Sergey Kunz and Anton Bukov got the idea to create a DEX 1inch aggregator. The founders of the project had experience in auditing the security of smart contracts, and their achievements were recognized with sponsorship awards at ETH hackathons.
1inch was launched in August 2020 after raising $2.8 million in funding from Binance Labs, Libertus Capital, Dragonfly Capital, FTX, IOSG, Galaxy Digital, Greenfield One, LAUNCHub Ventures and Divergence Ventures.
It entered free circulation in December 2020, when the first airdrop took place as the tokens were received by active users of the same name platform.
In December 2020, 1inch raised another $12 million in Series A funding led by Pantera Capital, with others including Nima Capital, ParaFi Capital, Blockchain Capital, and Spartan Group. The funding round was conducted through the sale of SAFT.
In the winter of 2020, 1inch also launched Mooniswap, an automated market maker (AMM) of its own.
Since February 2021, the 1inch token also became available on the BSC blockchain, with the asset acting as a bridge between BSC and Ethereum. Binance Smart Chain has generated ten million tokens, which are unlocked as tokens are transferred from the Ethereum blockchain (the original tokens are blocked accordingly).
1inch Token
The 1inch token is the management token of the DEX aggregator of the same name, which is one of the largest on the market. 1inch is not an independent coin with its own blockchain, it is an ERC-20 standard token that was originally issued on the Ethereum blockchain and is now also available on the Binance Smart Chain blockchain.
This token provides its holders with great opportunities to earn money and shows good results on exchanges. The token can be used for staking and providing liquidity in the pool, as well as token holders can use them to vote on key decisions about the development of the aggregator as a whole and of individual liquidity pools.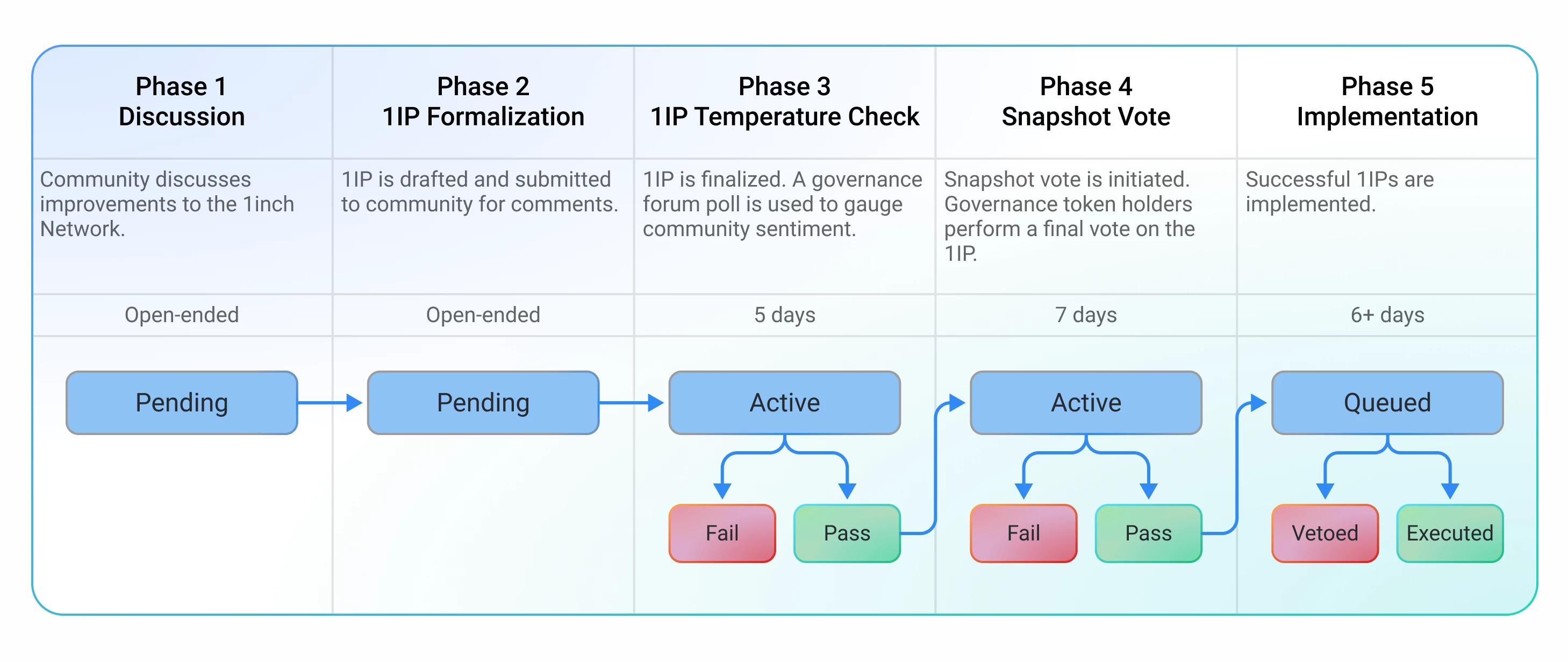 Topics that can be voted on at DAO 1inch include:
Adding a new liquidity pool
Changing parameters of liquidity pool
Deleting liquidity pool
Changing protocol parameters
Changing aggregator commission
Thanks to the innovative instant management function, the voting procedure for changes in protocol settings becomes more efficient and transparent. Decentralized Autonomous Organization (DAO) takes into account the vote of each participant, who made a bid. The strength of each vote depends on the amount of tokens placed. The final decision is based on the average of all votes submitted.
1inch receives a part of the commission, which goes to the liquidity sources it has partnered with. In addition, the exchange makes money on positive slippage. Part of the income earned from trades with positive slippage goes to referrals, while the rest is distributed as a management fee.
Wallets with 1inch Exchange Support
1inch.exchange supports the following wallets: MetaMask, Trust Wallet, Torus, FortMatic, WalletLink, Portis, Authereum, UniLogin, WalletConnect, Bitski, MEW and Ledger.
How to Get 1inch Tokens
1inch is not only an environment for buying and selling digital cryptocurrency. The platform provides additional highly effective tools for earning:
1inch staking: the ability to earn additional tokens.
Profitable farming: users can provide liquidity to one or more pools on the platform and receive solid rewards for doing so.
Liquidity providers receive payments from each trade on the pair they support made on the platform: the commission paid by the trader is distributed between them in proportion to the provided resources.
1inch Mining
Mining 1inch cryptocurrency is not possible, at least in the traditional sense of this term. All 1inch tokens have already been issued, but some of them are frozen and will be gradually unlocked over the next years. Nevertheless, the possibility of additional tokens is still available.
Holders of 1inch can stake their tokens in DAO and start receiving rewards in the form of additional coins, which will be unlocked from the pool that has been set up to support the community.
1inch Emission and Token Distribution
A total of 1.5 billion 1inch tokens were issued. They were distributed as follows:
55% went to investors and contributors
30% given to support the community
14.5% allocated to the network development fund, which performs airdrops and other similar promotions
5% for other purposes
At the same time, most of the tokens are frozen for now so there is nothing the owners can do with them. Tokens will be unfrozen gradually, the last tokens will be unlocked at the end of 2024.
Advantages and disadvantages of 1inch
One feature needs to be highlighted separately: since 1inch token is not an independent investment asset, only a tool intended for use within the platform, the rate of 1inch cryptocurrency entirely depends on how much demand the aggregator will be in.
| | |
| --- | --- |
| Great opportunities for earning | Complicated interface for beginners |
| Support for a large number of wallets | Limited number of supported blockchains |
| No withdrawal fees | |
| Full decentralization of protocol management | |
| The solution of liquidity shortage in the pools | |
| Possibility of effective trading optimization on DEX | |
1inch Safety
As a non-custodial aggregator of decentralized exchanges, 1inch does not store or process crypto-assets. This means that there is nothing to steal from it, even if the network was hacked. Traders take full responsibility for the security of their wallets and their wallet keys. The two-factor authentication feature and the availability of secure accounts can make a big difference here.
The platform itself has never been hacked, but some users have been phished. By cloning the platform, scammers managed to trick users into thinking they were connecting their wallets to the real 1inch platform, when they weren't. This is quite easy to deal with: users only need to add the original platform to their bookmarks and log in that way all the time.
Q&A For 1inch Cryptocurrency
How much is a one 1inch worth now?
1 1inch worth $0.2602 now.
What is the price of 1INCH?
The price of 1INCH is $0.2602.
What is the 1inch max supply?
The max supply of 1inch is 1.5B.
What is the 1inch stock symbol or ticker?
The stock symbol or ticker of 1inch is 1INCH.
How many 1INCH coins are there in circulation?
There are 1.03B coins in circulation of 1INCH.
What is the exchange rate of 1inch(1INCH)?
The exchange rate of 1inch is $0.2602.
What was 1inch's trading volume in 24 hours?
1inch's 24-hour trading volume is $10.24M.
What was the highest price paid for 1inch?
1inch reached a record high of $8.65 on Oct 27, 2021
1inch Exchange Rates on Trading Markets