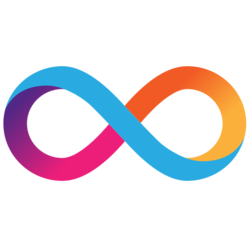 Internet Computer ICP Price
Cur - Max Supply
444.94M - 506.13M
Internet Computer Price chart
Statistics
Internet Computer Price

$2.93

All-time high

$700.65

Days since ATH

864

Price change

-$0.083

(-2.7637%)

Date of ATH

May 10, 2021

% of ATH

0.42%
Internet Computer Review
Founded Date: Oct, 2016
Founders: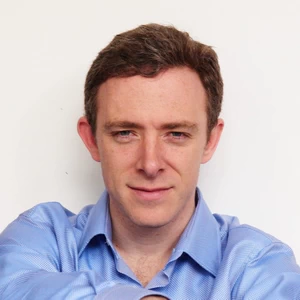 Internet Computer(ICP) - Coin Trading Data
| | |
| --- | --- |
| Internet Computer Price | $2.93 |
| Ticker | ICP |
| Market Capitalization | $1.31B |
| Value 24h low | $2.91 |
| Value 24h high | $3.02 |
| Trade Volume for 24h | $17.35M |
| Current Circulating Supply | 444.94M |
| Maximum Supply | 506.13M |
| Algorithm | |
| ICO Price and ICO ROI | — |
| Price Change 24h % | -2.7637% |
| ICP quote | $2.93 |
Internet Computer(ICP) ATH - All Time High Price
| | |
| --- | --- |
| Internet Computer ATH Price | $700.65 |
| Days Since ATH | 864 |
| ATH Date | May 10, 2021 |
| All Time High % | 0.42% |
Internet Computer Profile
Internet Computer is a next generation open decentralized blockchain project that provides a digital environment for smart contracts and for creating blockchain applications, that are resistant to censorship. Formally launched in 2021 by the Swiss DFINITY Foundation, the platform is designed to create an autonomous Internet and help prevent its monopolization.
The Internet Computer Vision
Internet Computer as a solution
ICP is designed to scale smart contracts, computing systems and decentralized architecture that enables the creation of secure, open and efficient blockchain applications with autonomous community management and tokenization: social and media platforms, e-commerce services, DeFi-platforms and corporate systems.
Even though the DeFi infrastructure is rapidly evolving, many platforms are dependent on services that are provided by centralized services. Crypto projects are using solutions from major players like Google, Apple, or Microsoft for storage and computation.
Internet Computer solves this problem by providing technology for creating open Internet services without any owner. By doing so, developers can create unchanging APIs that guarantee that a company will not shut them down or be unable to block access. Such applications can compete with monopoly services, while users and developers will have alternatives, and this will only boost the development of the Internet.
Problems that the Internet Computer aims to solve:
| | |
| --- | --- |
| Centralization | This is one of the main problems of modern online services. Distributed data storage and processing eliminates the risks of data corruption or modification, that arise from the single points of failure. |
| Censorship | Sometimes, companies are forced to follow government directives and filter information based on requests, disregarding the users' needs. If the requirements are not met, a company and its sites become subject to sanctions that break the normal operation of services. |
| Monopolization | Monopoly in the technology industry results in companies being able to impose their own terms and conditions on users or organizations. |
| Lack of autonomy | App developers have to follow the rules and policies of companies in order to publish software in app stores such as the App Store or Google Play. On the one hand, a decentralized ecosystem opens up more opportunities for hackers, but on the other hand, creators of useful apps will have access to a wide audience. |
Internet Computer History
October 2016: Project was founded by successful entrepreneur Dominic Williams.
May 2018: 50,000 registered members receive ICP service tokens on airdrop.
August 2018: Dfinity announces it has attracted $102 million from both accredited investors and venture capital firms.
December 2020: Startup of Internet Computer's alpha network.
May 2021: The Internet Computer has launched. Internet Computer Protocol (ICP) tokens become available on exchanges.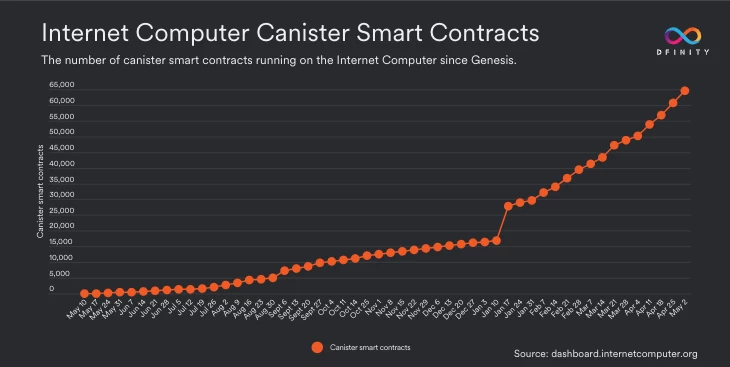 Consensus
The ICP network doesn't use either Proof-of-Work (PoW) or Proof-of-Stake (PoS) consensus. Instead, the protocol provides a new consensus algorithm called Internet Computer Consensus (ICC), which is a set of atomic broadcast protocols for translating data on the blockchain. ICC consists of three protocols: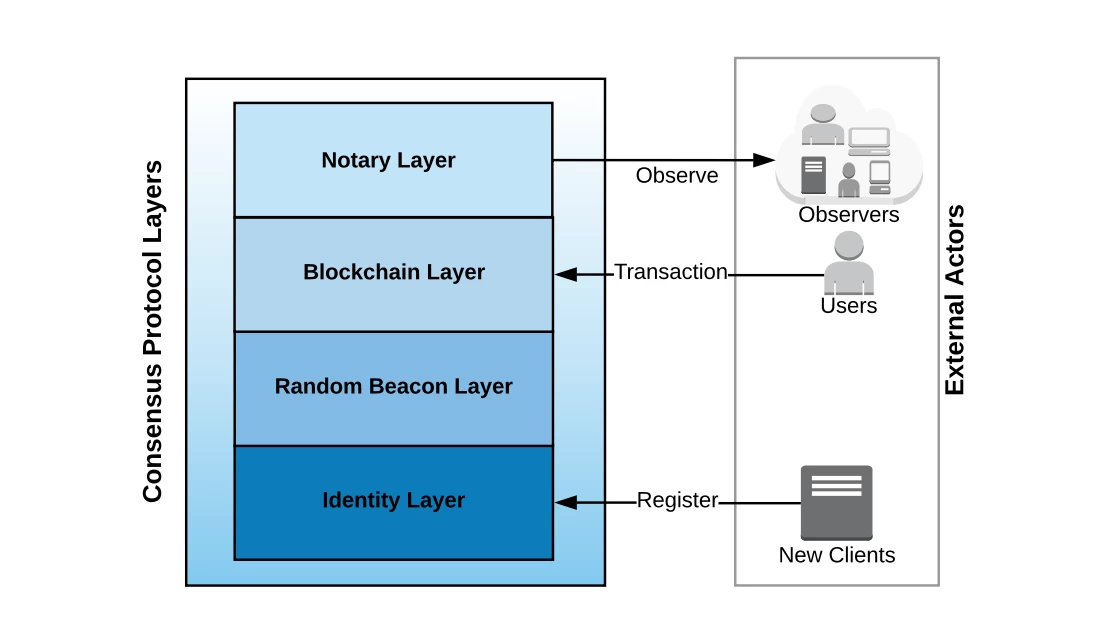 ICC0 is a simplified version of the protocol.
ICC1 is a modeled version of the ICC0 protocol.
ICC2 is a protocol that uses features that have not yet been activated in Internet Computer.
With this approach, "replicas" in the ICP network can be distributed across subnets and used separately from the core network without overloading it, and as a result, the scalability of the blockchain platform is improved. The process of dividing ICPs into subnets is called replication.
IC Tokens
IC ecosystem is based on 2 tokens: ICP and CYCLES. The CYCLES token is quite simple, it has a constant price and is tied to a currency basket. Applications owners can burn ICP tokens to gain computing power from the network, consuming resources to run CPUs, bandwidth, routing, and storage for data. The cost of these computations is determined by the number of CYCLES.
The CYCLES are analogous to gas in Ethereum or credits in AWS. Active use of ICP will lead to the progressive removal of some of them from circulation forever, which will increase the capitalization of Internet Computer, expanding its financial opportunities for further development.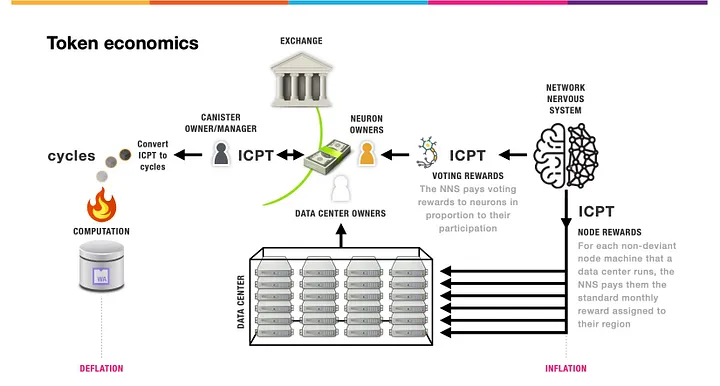 ICP is a utility token, the price of which is established in the open market. ICP is a key element of economy, and its functionality can be divided into three main functions with first two of them being inflationary (increasing the number of coins) and the third one being deflationary (decreasing the number of coins):
Management of the network through ICP staking and voting by an appropriate number of neurons. New ICP tokens are distributed to reward participants.
Infrastructure support. ICP tokens are awarded to node holders as a reward.
ICP burning followed with conversion to CYCLES. The more applications and users there are on the network, the more CYCLES are needed, which means more ICP will be burned and potentially smooth out the distribution effect of new ICP tokens from staking.
Internet Computer Mining
You can't mine Internet Computer like Bitcoin. The traditional Proof-of-Stake (PoS) with staking is not supported either, and it is not possible to get a reward in return for holding your ICP tokens, or being a validator node.
Instead, the Chain Keys protocol will reward those who temporarily lock their ICPs and control voting neurons in NNS. By determining the future of projects and contributing by voting, users will accumulate additional ICP tokens as a reward.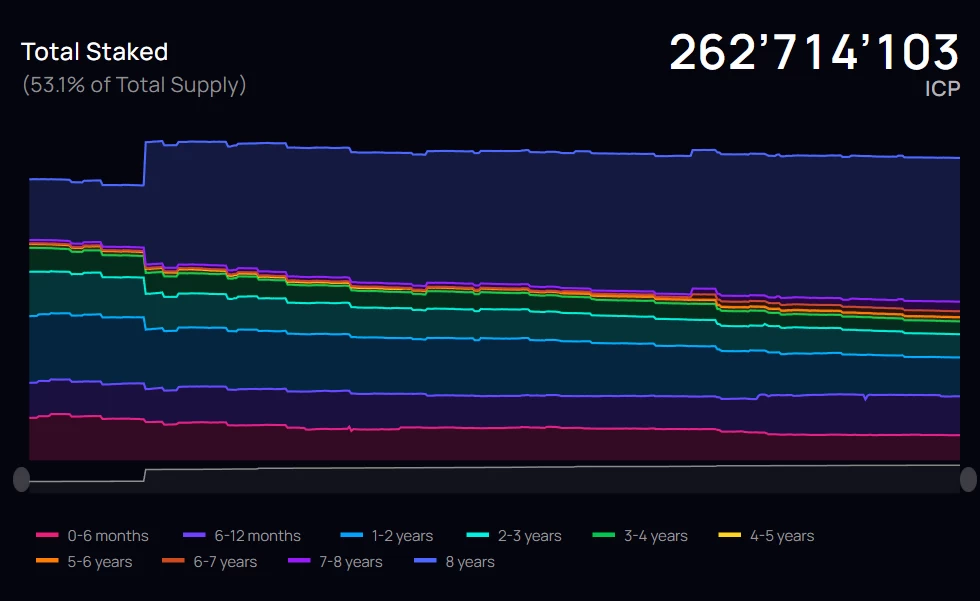 Advantages and disadvantages
It is important to highlight the weaknesses and strengths of the project when considering its features.
| Advantages | Disadvantages |
| --- | --- |
| Adaptation with the Etherium system. | Lack of certainty with the project's perspective. |
| Protection against forks. | Absence of a clear understanding of the development goals. |
| Integration into applications and private networks. | |
| Availability of cloud data storage. | |
| No limitations in terms of scalability. | |
| Formatting of smart contracts. | |
| Transactions with cryptocurrency inside the network. | |
Project Roadmap
DFINITY has released a roadmap for the 20-year project, and you will find a summary of its goals below.
Over the next five years: the basics of Internet Computer and Motoko (its programming language) will be learned in schools. Some open source Internet services will be a big success and everyone will know what ICP is.
Over the next ten years: Internet Computer will be on its way to surpass the closed, proprietary ecosystem of the modern Internet, where big tech companies are in control; resources will continue to be diverted to ICP from traditional Internet companies; and DeFi will be an equal match for traditional financial technology.
Over the next twenty years: ICP will become bigger than today's closed Internet. It will host most of society's critical infrastructure, with people worldwide benefiting from significantly increased privacy and personal freedoms.
Q&A For Internet Computer Cryptocurrency
How much is a one Internet Computer worth now?
1 Internet Computer worth $2.93 now.
What is the price of ICP?
The price of ICP is $2.93.
What is the Internet Computer max supply?
The max supply of Internet Computer is 506.13M.
What is the Internet Computer stock symbol or ticker?
The stock symbol or ticker of Internet Computer is ICP.
How many ICP coins are there in circulation?
There are 444.94M coins in circulation of ICP.
What is the exchange rate of Internet Computer(ICP)?
The exchange rate of Internet Computer is $2.93.
What was Internet Computer's trading volume in 24 hours?
Internet Computer's 24-hour trading volume is $17.35M.
What was the highest price paid for Internet Computer?
Internet Computer reached a record high of $700.65 on May 10, 2021
Internet Computer Exchange Rates on Trading Markets