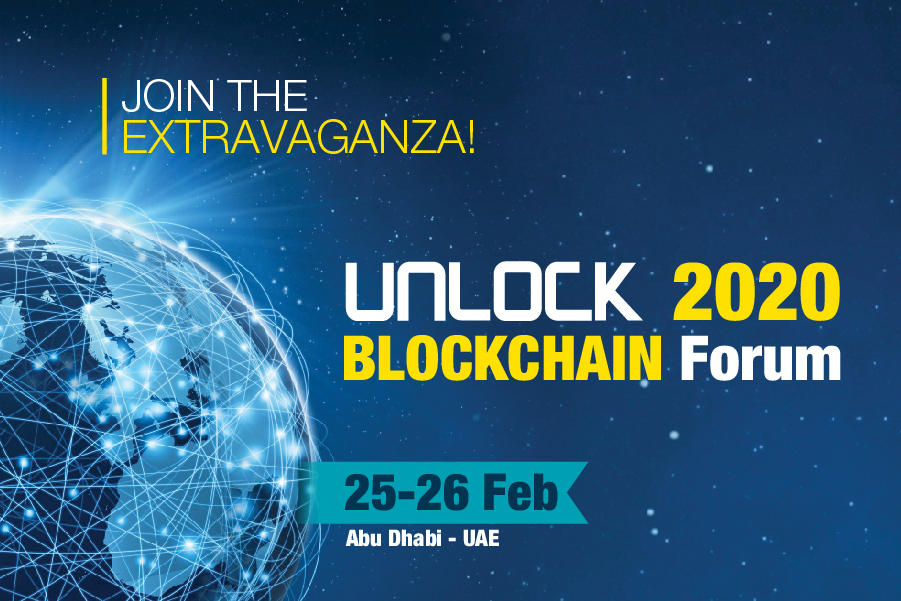 UNLOCK Blockchain 2020 Forum will be held in Abu Dhabi – UAE on February 25th-26th. Our 2020 forum will be our third series of UNLOCK and hopefully the biggest yet. UNLOCK has been an integral part of the blockchain ecosystem in the region as it sheds light on what is being done in Blockchain across the MENA region and specifically in the GCC.
UNLOCK has also been a strong proponent for international and regional blockchain startups. In our 2020 UNLOCK Blockchain forum we will be holding the first UNLOCK Blockchain challenge with prizes to top three startups ranging from $15,000 to $5,000. The challenge is open to all startups participating at UNLOCK either through a stand or the UNLOCK Startup ecosystem sponsorship.
Our focus in 2020 will be on the success stories in the MENA region whether governmental, financial, health, and others. We will also discuss the tokenization movement including Security token offerings across the board and the rise of crypto exchanges in the MENA region.
We look forward to your participation at UNLOCK and thank you for helping to grow blockchain globally and in the MENA region.
As a final remark, UNLOCK series has brought together more than 800 attendees, 115 speakers, 15 major sponsors, 70 blockchain startups, 70 media partners and more than 30 investors from across 50 countries.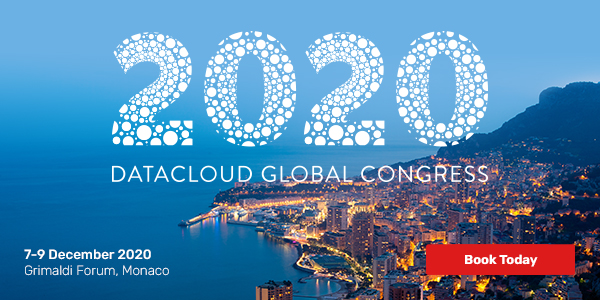 The global gathering of datacentre pioneers shaping a connected future!
The event has been created to give the community a platform to share their views, insights, experiences and future predictions for a connected world.
Over the three-days we cover edge computing, energy and sustainability infrastructure, AI, global market outlook and have a special focus on the French market.
New to this year is Global Women in Telco Tech Breakfast Briefing, Edge Forum and Pecha Kutcha sessions from a host of leading suppliers to the sector.
Finally, as a demonstration of our understanding of the need to deliver dynamic content we have; roundtables, panel debates, expert insights and fireside chats.
This really is the only event you need to attend to network with the global datacentre community.
See the programme: https://www.datacloudcongress.com/programme

FinTECHTalents is the ultimate fintech festival with two days of innovation, collaboration, live tech demos, workshops, round-tables, live music & craft beer sessions. With over 3000 attendees, FinTECHTalents connects tech start-ups, tech enablers, hundreds of financial institutions' innovators and academia under one roof.
Key Stats
• 3000 + Festival goers
• Over 1500 INNOVATION LEADERS in attendance representing 400+ Financial Services Institutions
• A festival exhibition floor with 80 + exhibitors, featuring the hottest technology companies in the market today
• The TALENT of TOMORROW – over 500 computer science, design and business students and grads in attendance representing the top university programmes in the world
• Over 50 hours of content sessions including workshops and round tables – Lots of opportunities for you to get your strategic message across!
• Craft beer and live music sessions – after all, we are bringing the fun back to Fintech 😊
For more information on FinTECHTalents – including a full agenda, speakers and details on how to register, please go to www.fintechtalents.com

The digital banking landscape in the region is expected to transform West Africa into a fintech hub. Governments have initiated cashless policies, which promote innovation in payments and banking systems, drive change in consumer patterns, provide a boost to mobile and internet adoption, and increase e-commerce and smartphone penetration. This represents a host of opportunities for banks and financial institutions to utilize technology to champion innovations in areas such as customer experience, cybersecurity, and seamless digital channels.

The regions Central Banks are implementing policies to meet the requirements of the next generation banking customer by examining the challenges and successes of countries that have improved financial inclusion. In turn, the sector must efficiently incorporate disruptive mobile money platforms, automated banking systems, tailored credit facilities and crypto-currencies for this dynamic market. In light of this, Finnovex will address the entire value chain of the region's banking and financial sector to best achieve financial inclusion and sustainable growth.
Use promo code: FINNOVEXCDF15 for an exclusive 15% discount.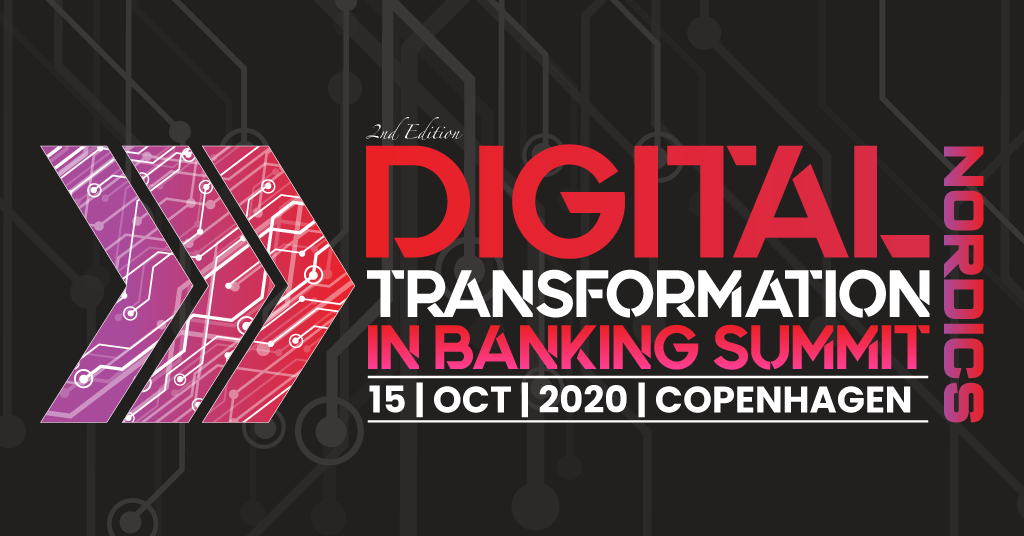 The Darwin's theory of evolution significantly holds true for the banks of this digital era. What can be called 'Digital Darwinism', where technology and society have evolved faster than the bank has adapted in the last 30 years. Therefore, it has become imperative for today's Bank to switch from their age-old legacy systems to a more robust, efficient and modernized platform to stay relevant in this digital age. Most of the leading banks are now investing heavily in digital technologies (such as blockchains, AI, Automation, Cloud computing) to reap their key benefits and stay competitive in the business.
Digital Transformation is a customer intelligence solution that enables banks to deliver a great omnichannel customer experience. Today's business leaders are constantly challenging their organizations to ensure this change can unlock productivity gains and significant competitive advantage all while delivering exceptional customer experience.
Kinfos Events through its research has identified the importance of 'Digital Transformation' as it has emerged as one of the most topical subjects in the banking sector. The summit aims to help the banking sector to learn about the latest case studies in Europe, live rollouts, industry best practices and address some of the most common challenges of implementing Digital Transformation from selecting the right digital platforms, managing the cultural shift, minimizing their costs of implementation, identifying new partners who can support this transformation journey through collaboration FinTechs.
This unique event will be jointly represented by 15+ leading speakers and it aims to gather about 120+ attendees (mostly from local and regional banks, regulators, standard bodies, selected FinTechs) who are looking to stay ahead of the curve.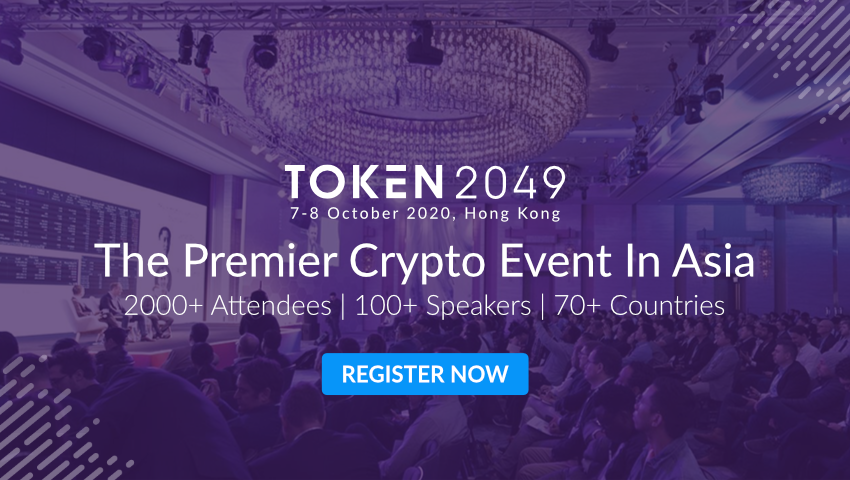 TOKEN2049 brings together the leading voices in the crypto sphere, providing attendees with the opportunity to learn from the pioneers, the early believers, and highly influential and established opinion leaders, who play an instrumental role in shaping the token ecosystem.

The event takes place at the West Hall of the Los Angeles Convention Center.
Parking is available at West Hall parking.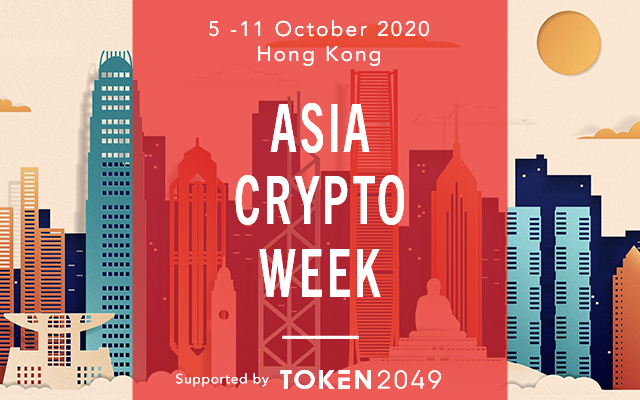 After the successful inaugural event week in March 2019, Asia Crypto Week is back again 5-11 October 2020 with what is looking to be an action-packed program. Subscribe to the guide, or watch this space for continuous event updates taking place throughout the week.
Asia Crypto Week is a week of various independently organized educational and developer-focused events that aim to nurture mass adoption by providing first-hand information about the industry. Blockchain enthusiasts and industry veterans will come to Hong Kong to share their knowledge and stories during Asia Crypto Week, providing exceptional insights into the ever-larger growing ecosystem.

The Middle East is one of the world's fastest-growing regions in the banking and capital markets sector. The region's financial services sector is in the midst of an enormous overhaul. Banks and financial institutions across the region are investing heavily to match or surpass their international peers, owing to better educated and younger and demanding population; increasing diversity in financial products and services; and rising regulatory requirements for better monitoring of processes and developing secure financial systems.
Banking on the success of the 2019 Edition which brought together top professionals and C-level executives from the financial services industry to examine how technology is changing the delivery of banking and financial services, Exibex is proud to present Finnovex Middle East 2020. Finnovex Middle East will discuss the roles of banking and non-banking institutions, financial organizations, investment firms, fintech companies, and other stakeholders in developing incentives to the paradigm shift in this sector.
Use promo code: FINNOVEXCDF15 for an exclusive 15% discount.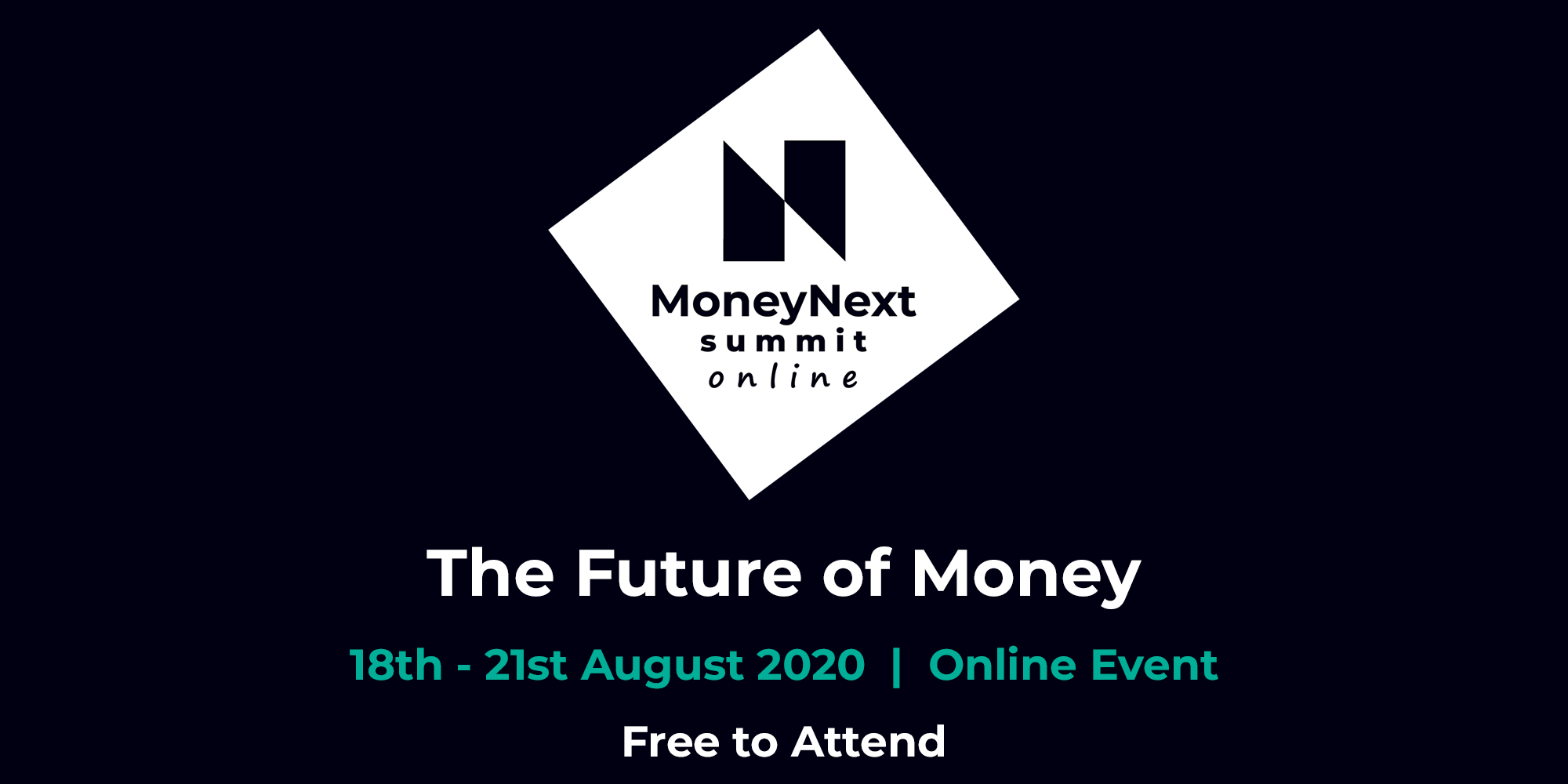 MoneyNext Summit Online is the leading virtual event to address the current financial landscape and offer insight and opinion into the future of money.
180 visionary speakers and 5,000 finance and technology decision-makers debate the latest industry trends and future innovations alongside tech giants and the latest startups.
Event highlights include:
spotlight themes include Banking Transformation, Payments and Transfers, Blockchain, Open Banking, Lending and Finance, Insurtech and Security
180 inspiring speakers
exhibitor directory & demos
great networking opportunities in an innovative virtual environment