Before buying Ripple, let's understand the primary purpose of cryptocurrency XRP. Readers will also learn from this review where to buy Ripple and how to buy Ripple with USD or another currency.
To purchase XRP is possible on cryptocurrency exchanges. Not all trade XRP platforms. Later in the article, we list XRP exchanges. You will also find out places where you can buy Ripple with USD or a bank card.

What is Ripple?
Invest in Ripple are companies that are not happy with the speed of making international payments. The protocol for Ripple was written in such a way that banks and financial institutions can work with each other, being in different countries and time zones, without spending so much time checking and processing data.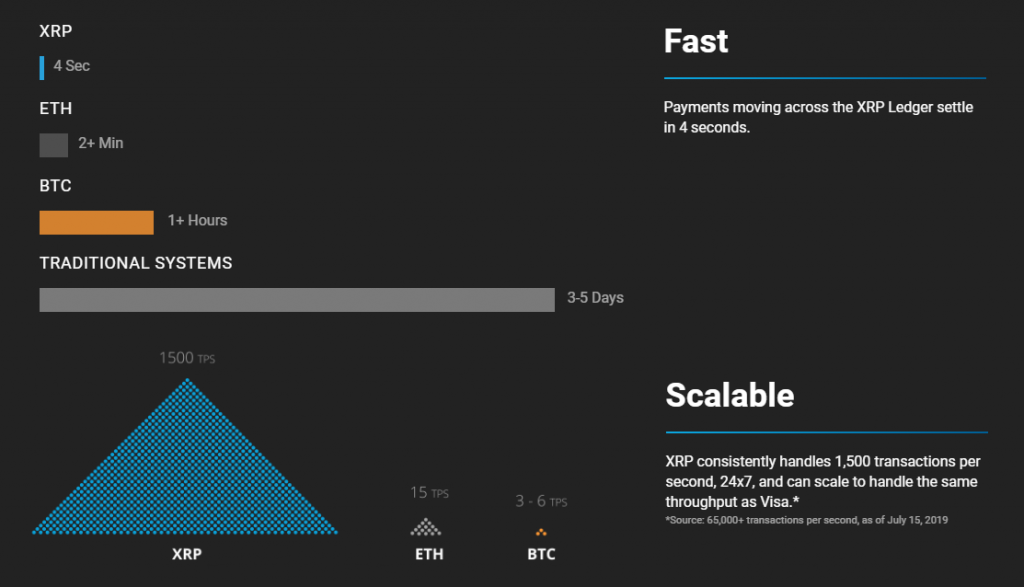 Several banks have officially introduced this technology into their systems to convert fiat money to coins and make transfers in 4 seconds. There is a speed that developers guarantee. At the same time, network bandwidth is 1,500 transactions per second.
Most financial institutions still fear to invest in the Ripple, because its price is unstable. In 2017, the cost of XRP increased by 300 times. Bank executives fear that a fall for XRP may replace rapid growth in value.
Another feature of the protocol that investors must understand before buying XRP is the system's support for two types of currencies.
You can use debt receipts that are sold by financial institutions to each other and users.
Ripple also exists in the form of standard tokens.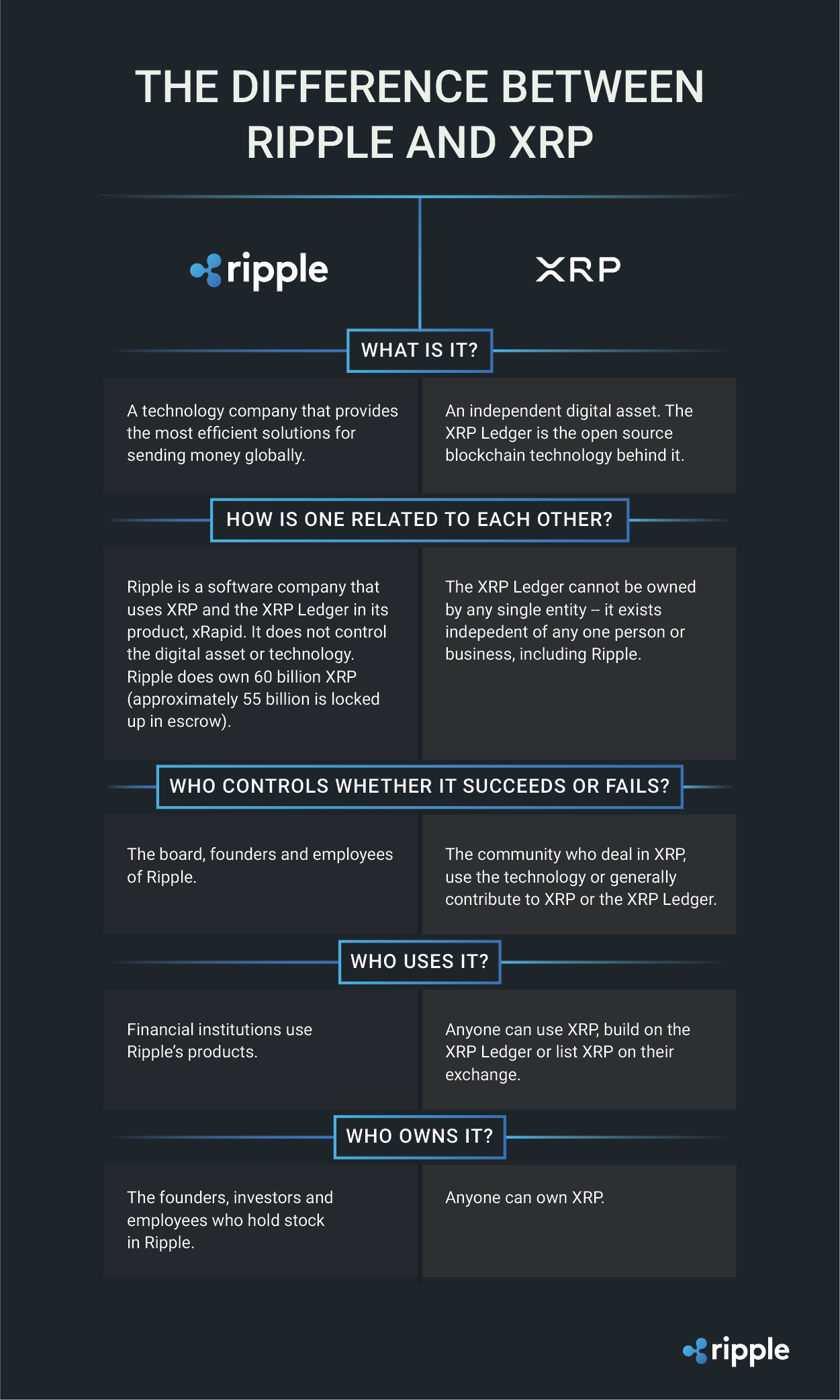 How to buy Ripple
The whole process can be divided into two simple steps.
Step 1 – Get a Ripple (XRP) wallet
Before looking for where to buy XRP, the future investor needs to decide where he will store the cryptocurrency XRP. There are several ways to do this:
A user can purchase a hardware wallet for stock coins (such as Ledger Nano). Such equipment is similar to a microprocessor or flashcard. Some models even have a touch screen.
The future owner of Ripple and any other coins (for example, Litecoin) can keep them on special desktop software. Such wallets run only on the computer on which they are installed.
The most accessible but least safe option is to use mobile apps or online wallets. Such services are very convenient, but it is better to leave only insignificant amounts of money on them.
If you want to use a digital wallet for storage and trade XRP, the system will reserve a down payment of 20 XRP. It protects your account from spam. So that the wallet owner can buy and sell Ripple, he must first create a digital address. There is a case-sensitive code of letters and numbers. The code is 25 to 35 characters long.
Step 2 – Find an XRP Exchange
Most Ripple exchanges accept digital currencies, but there are options for fiat trading. If you plan to buy XRP with dollars or euros, then the eToro website will suit you. To start using the service, customers do not even need to have a digital wallet. But there is one drawback – fund owners cannot buy other coins at their own expense, or send their funds to other people on this exchange. You can use the service only to make money on rising or decreasing prices.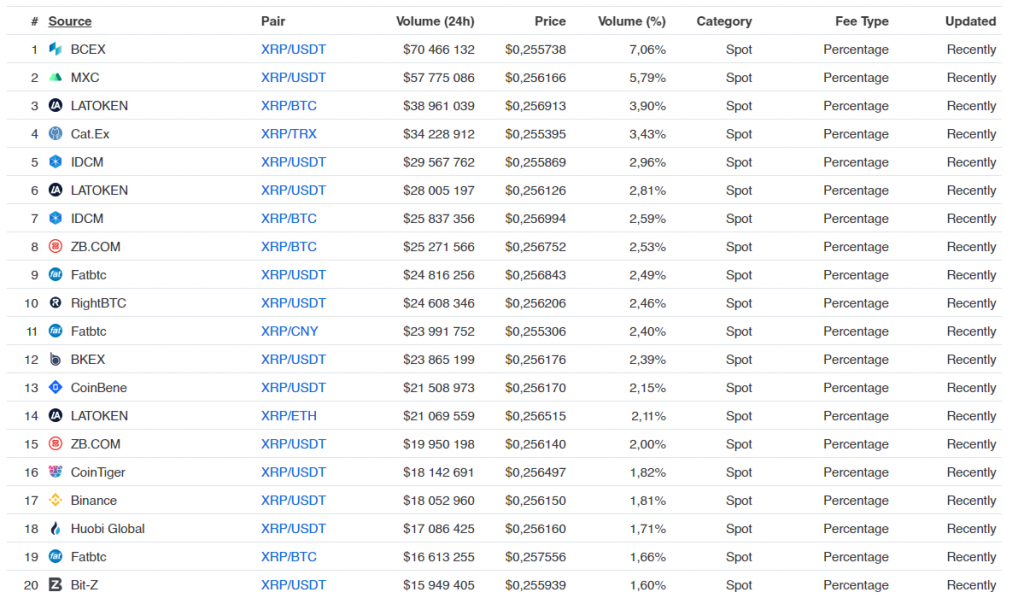 How to Buy Ripple with Coinbase and Binance
Depositors can buy XRP on Coinbase for fiat money using a bank transfer or a debit card directly. However, your ripple account must be verified. Many players in the cryptocurrency market are sure that the most profitable way to invest in XRP is to get it via BTC.
Many XRP exchanges offer this feature. Among them:
Trading can be carried out by any popular currency pairs. For example, it is possible to exchange Ripple vs. Ethereum. However, any XRP exchange requires sophisticated verification of an account. Also, participants pay fees for add deposits, send coins, stocks, and cash withdrawals.
How to buy Ripple (XRP) on Binance? To do this, stick to the following scheme:
If you do not have a personal profile on this platform yet, create one. Verification of documents does not take a very long time.
Deposit Bitcoins. To do this, click the Withdraw funds button. In the form that opens, enter the address of your digital wallet (or a wallet on another exchange, Coinbase is suitable).
Buying XRP, select a currency pair with BTC, and click Submit.
On the Binance website, go to the Recipient section and enter the deposit amount in BTC.
For cryptocurrency XRP to be reflected in the overall balance, choose what percentage of Bitcoins you want to exchange (you will have four options).
To complete the transaction to buy Ripple (XRP), click Buy. Order processing happens instantly.
In the Accounts section, you will see the balance in the desired currency.
If you have questions about working with the interface, the system has technical support. It was the most comfortable way, how to buy Ripple with Bitcoin.
How to Buy Ripple with USD – Credit Card
Some exchange suggests using fiat to buy Ripple XRP. For example, Coinmama accepts card or bank payments. Some XRP exchanges accept SEPA. All services are similar in that credit card transactions are faster and more expensive. A bank transfer may take a week to process. Moreover, it can generally be free or require a commission much lower.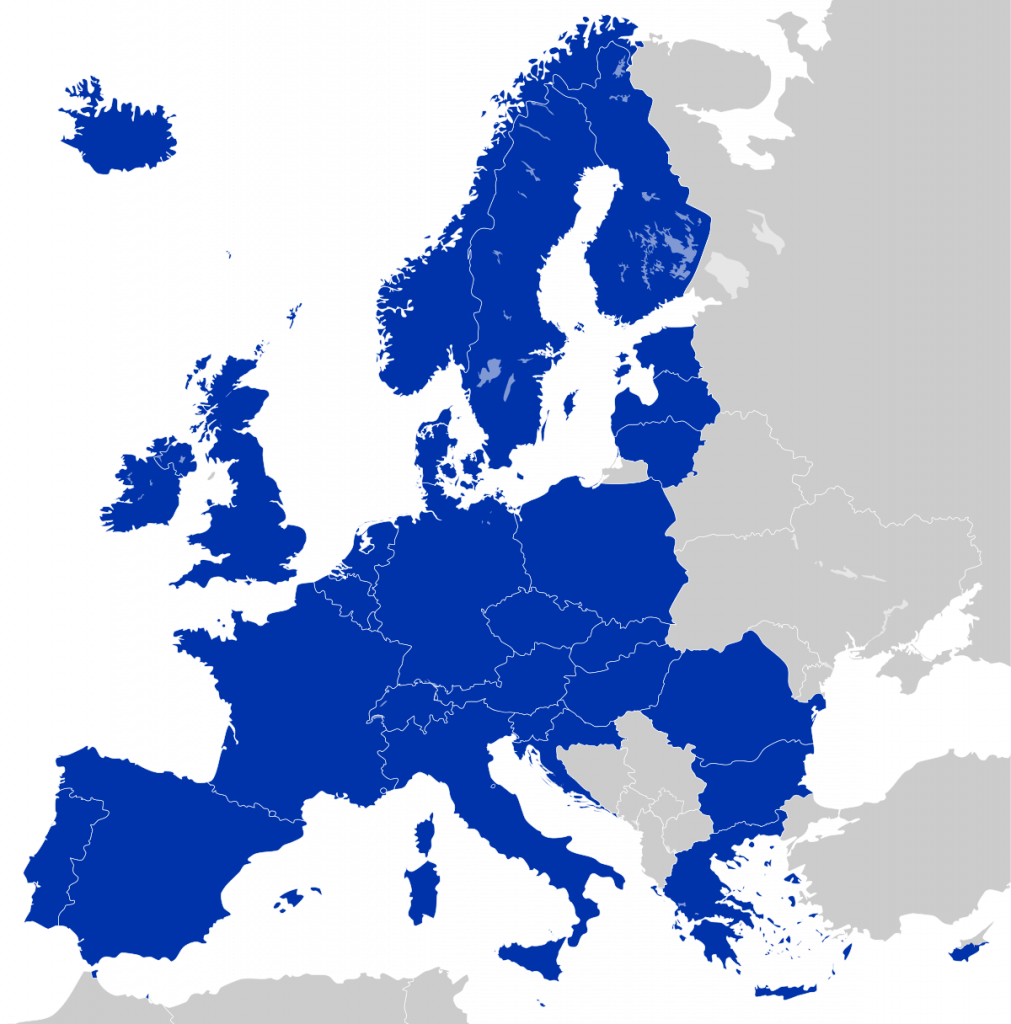 How to buy Ripple with USD on Bitstamp
If you decide to fund your XRP account with exchange Bitstamp for fiat currency, then follow the template: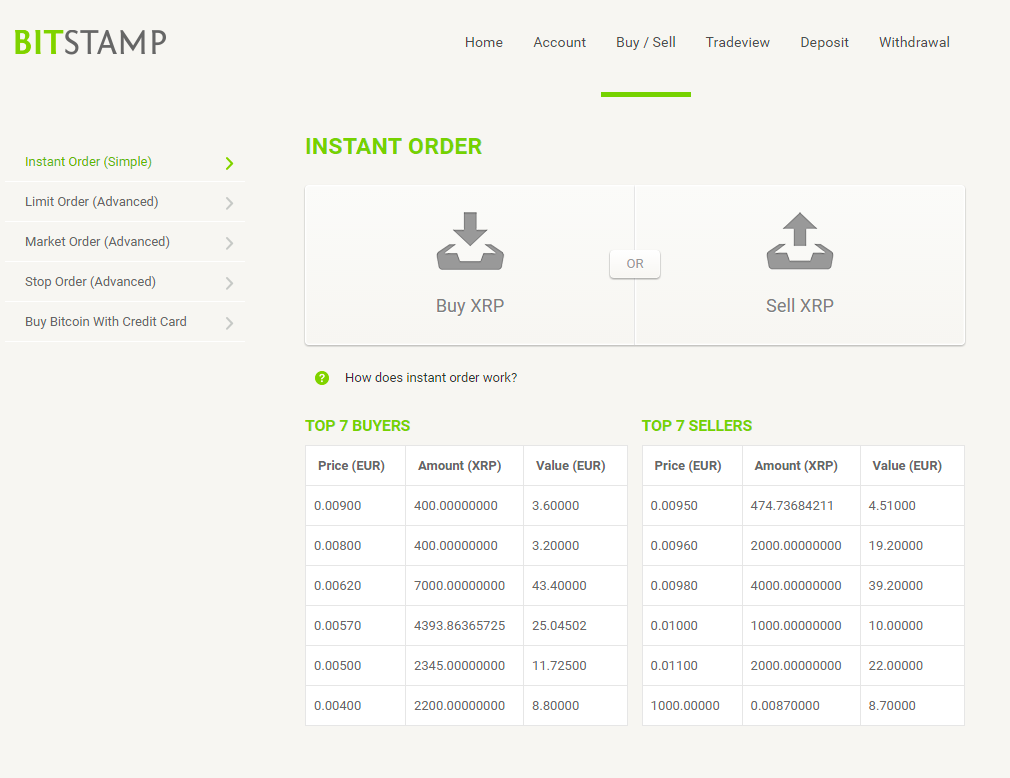 Register your account on the site. Optionally, you can connect a two-factor level of protection.
Wait a few days to complete the verification of your profile.
In your account, select Deposit. To send money by bank transfer, the item International Bank Transfer is suitable.
Enter your details. Transferring the required amount may also take some time.
When the deposit is sent, select the desired currency pair and go to the Buy / Sell option.
Choose a simple order and click Buy.
For the safest transaction, experienced investors prefer to pay for the purchase using the PayPal service.
How to buy Ripple with USD on Kraken
To buy cryptocurrencies such as Ripple on Kraken, your account must pass at least three security confirmations. For this, you need to provide personal documents. Also, according to each level, there are limits on the volume of transactions.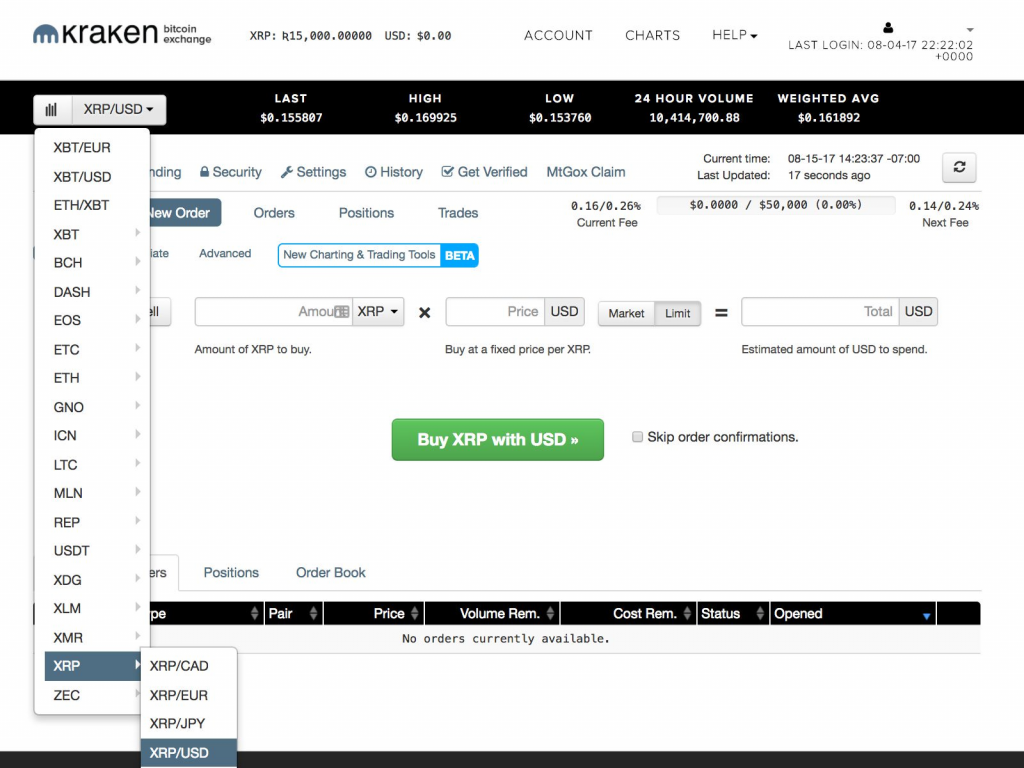 When your account is verified, go the way:
Account – Financing – Deposit – USD.
After selecting the desired currency pair, you will have to create a new order for the coins that you want to buy.
Among the payment methods are only electronic transfers. The transaction fee in favor of the bank is about 25 USD.
How to buy Ripple with USD on Cex.io
How to buy XRP on Cex.io? Among Ripple exchanges, this service has one of the simplest mechanisms for trading. Take four quick steps:
Create an account with two-factor verification and password.
Confirm the settings within 24 hours (you will receive a notification).
Make an instant deposit with a bank card. The exchange supports MasterCard, VISA systems. The commission is from 3 to 5%. Bank transfers are free. But the exchange processes them for several days.
In the trading interface, select the number of coins and the fiat currency that you plan to pay. Done.
Some exchanges that trade XRP / BTC
List of services that should be considered when choosing a trading platform using Bitcoins:
Some exchanges that trade XRP / ETH
Traders who own Ether will love sites such as:
Some exchanges that trade XRP / LTC
To trade in a currency pair with Litecoin, try Bitsane.
Step 3 – Withdraw XRP
Leaving a lot of coins on the exchange account is not safe. The exchange administration owns private keys (passwords) from the address where your funds are located. Withdraw funds to your digital wallet so that only you can control your coins (own private keys).
Is Ripple a Good Investment?
It makes sense to invest in these coins to financial institutions and banks. The Ripple network provides near-instant transatlantic transactions and also offers a scalable system. At the same time, any investment in cryptocurrencies can be both very profitable and risky, given the high volatility of all digital tokens.