Guarda is a cryptocurrency wallet that is available in Web, Desktop, mobile, and chrome extension versions. It allows you to manage your tokens from a computer or phone effectively. The platform is licensed in Europe and is regulated, legal, and reliable.
Guarda Wallet Specifications
Guarda is compatible with the operating systems Windows, macOS, Linux, as well as iOS and Android. The wallet has advanced features. Therefore, cryptocurrencies can not only be stored but also bought with a bank card.
Types of Guarda Wallet:
High security
An online wallet does not store user information, public or private keys. All personal data is only stored in the backup file, which can be accessed only with a password. Blockchains remain in the blockchain network.
Guarda offers several ways to import private keys into the system:
From other wallets installed on your PC or smartphone;
From wallets on exchanges;
From hardware wallets (Ledger Nano S).
New Token Generator
If you want to create new coins that comply with the ERC20 standard, Guarda has a built-in generator. You can also manage your tokens and promote them.
Investment portfolio in one wallet
Guarda allows you to work with almost 50 well-known cryptocurrencies. Of course, among them you will see:
Did not find the token on the list? Take a look here, guarda.co.
Wallet setup
To get started, the user does not need to download additional software. A new wallet can be created directly on the site page. There you need to pick:
1. Make a new wallet;
2. Or bring in data from existing wallets.
The service does not require an email or phone number, so if you forget the password, the site administration will not be able to regain access to funds.
In case you want to access your funds from another computer, from another browser, or clear the cache, the system immediately suggests making a backup (without a backup copy and password, the registration process cannot be completed).
To work on your smartphone, you can also use the log-in via your browser to back up or download the Guarda mobile application.
How to apply the service?
Purchase
You can buy coins using a bank transfer, credit card. Five fiat currencies are accepted, including Euro, USD, RUB.
Next, go the way:
In the Buy tab, determine the country of residence;
Enter the number of coins you need and the amount of payment in fiat currency;
Indicate the type of cryptocurrency;
Choose a payment method from the list.
After confirmation, the web page will be redirected to the Simplex payment system. In it, you complete the transaction. Tokens are credited instantly.
Sale
To send coins to someone, follow these steps:
Wallet address can be entered by scanning a QR code or manually;
In the particular field, enter the number of coins;
Push Next to verify the data and evaluate the transaction fee.
After confirmation, the transaction will be recorded on the blockchain and will become irreversible.
Exchange
In the Exchanges tab, you will find a field for choosing the type of cryptocurrency you want to give and the coins you wish to receive. Also, indicate the number of coins to exchange. By clicking on the Next button, you will find yourself on a partner site, where you will be asked to complete the transaction.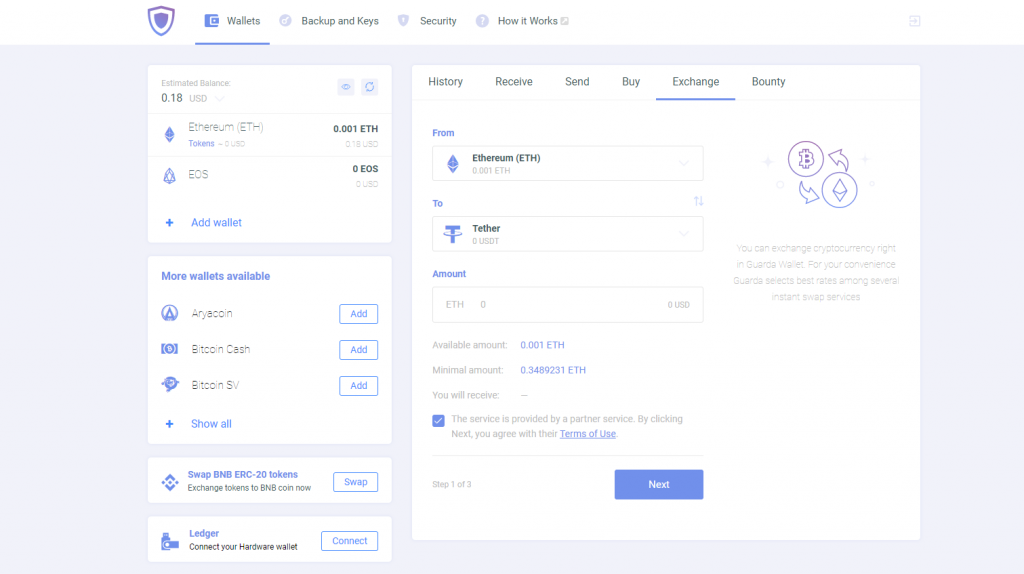 Stacking
Callisto
Guarda Wallet allows implementing Cold Staking inside the application. To begin staking with Guarda and getting rewards for your CLO coins, it is necessary to follow several steps:
Choose the amount of CLO you would like to stake in Guarda Wallet. The possibility of staking becomes available after the coins are deposited. Click on Stake on the Receive page.
As the chosen amount of CLO gets deposited into the Staking Contract, these funds get locked for 27 days. During this period the staker cannot access their funds, withdraw or transfer them.
After the locking period is over, both the amount deposited and the staking reward are available for withdrawal. A Claim button will appear on the Receive page.
Komodo
Guarda Web users have the opportunity to take advantage of Komodo Platform's stake system, producing 5% rewards for simply having KMD in their wallets.
However, before you can begin accruing your rewards, some conditions need to be satisfied:
You need to have at least 10 KMD on your wallet in order to begin staking.
Your funds need to come from another wallet which enables the Komodo claim.
On Guarda, if you obtain KMD via purchase with fiat, or exchange from another cryptocurrency, you will need to add another KMD wallet, then transfer the funds there utilizing our in-built Send function. This marks the funds with a 'LockTime' setting, enabling the claim.
Important – the transaction needs to be more than 10 KMD!
You need to wait for roughly 75 minutes while your rewards begin accruing. Only after this period passes will the Claim option appear in your wallet.

Final thoughts
Guarda's online wallet is designed to make it convenient for users to use a variety of crypto tokens actively. At the same time, owners of significant sums of money are still recommended to keep them on hardware wallets and deposit coins to an online service for various actions with them.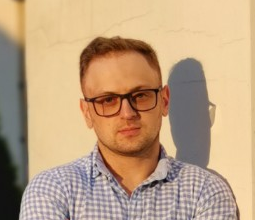 I am a crypto enthusiast. Bitcoin miner in 2013. AERGO Ambassador. I believe that blockchain technology is the future. My goal is to clarify the value of cryptocurrencies and blockchain in a free economy and security. I want to contribute to the implementation of these technologies in people's lives through an explanation of the principles of its work.